New Video and Single Out! Rhythm's in the Melody
Our new single "Rhythm's in the Melody" has dropped! Check out the video below, and download the track FREE at soulshamusic.bandcamp.com/
July 3rd at Summer BCMFest
Club Passim's summer version of BCMFest in Harvard Square will feature Soulsha on an outdoor stage on Palmer Street 3-4:30pm, July 3rd. For more information see passim.org/BCMFest

Soulsha Will Appear at Tartan Day New York City April 9th
We've been invited to perform as the headlining band at the afterparty to the famous Tartan Day Parade and festivities in Manhattan April 9th! The party is at Papillon and runs 4-7pm, after the parade.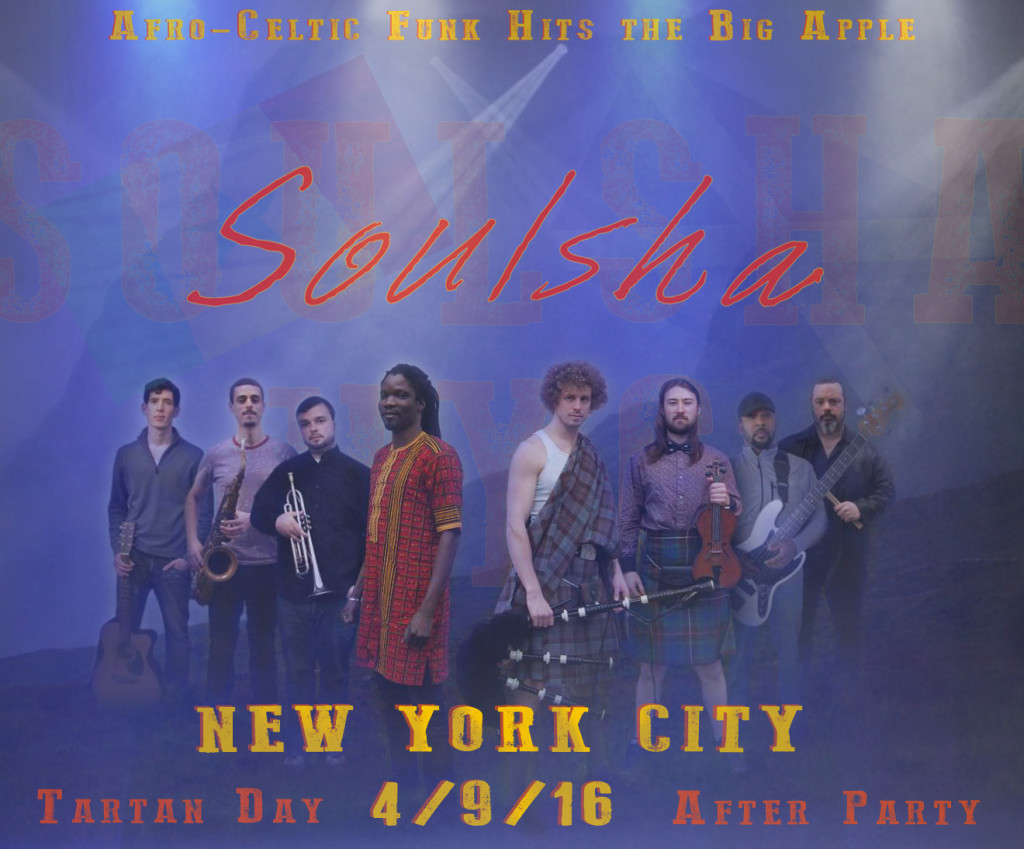 ~
Soulsha at FallsFest 2015 Highlights
It was blazing hot day in South Hadley, MA. But a great festival and enthusiastic crowd nonetheless!
New Video! Soulsha at Outside the Box '15
We had a terrific time performing at this mammoth free public music festival on Boston Common. We had a wonderful audience who really engaged despite the intense heat of the day.
THIS JUST IN! Soulsha at FallsFest in South Hadley, MA July 25th 2015!
Soulsha will appear at FallsFest at Beachgrounds Park in South Hadley, MA July 25th 3:30-5pm! Appearing for a full hour and a half, we will be joined for this great FREE community  festival by our original rhythm section of Aaron Bellamy on bass and Pete MacLean on drums, plus the amazing Lamine Touré on percussion. This is one not to miss!
Soulsha at Outside the Box 2015 on Boston Common!!!
July 19th 12-1pm, on Boston Common, completely FREE! www.otbboston.com
Soulsha will be rocking the stage at to one of the hugest free music and arts festivals in the northeast July 19th. This six-day completely FREE event is held on Boston Common. For more information see www.otbboston.com.
Soulsha is coming the the Highland Games July 18th!!!
We'll be performing live at Glasgow Lands Highland Games at Look Park in Northampton, MA, July 18th. The long awaited moment has arrived and we will be busting onto the highland games scene with trumpets blaring and bagpipes squeezing! We'll be sharing the stage with some other great fusion bands, including Prydein, and Albannach. For more info about the event see www.glasgowlands.org.
Soulsha Returns to Wake Up the Earth May 2nd 12-1pm!
12-1PM May 2nd 2015 on the Sun Stage! A great community festival held at Stony Brook T Stop Park. This show will feature Dan Bui on the Mandolin, Charles Berthoud on the bass, and Matt Hull on the trumpet, in addition to the regulars.
Video of "A' Ghrian" from BCMFest 2015 Released!!!
Check it out:
Soulsha Returns to Boston's Celtic Music Festival Jan. 10th!

We're VERY excited to announce that we will once again be playing at BCMFest! Our set is at 4:30pm Jan. 10th 2015 in the Sanctuary of the First Parish Church, Harvard Square. We have once again been given the place of honor, closing out the daytime portion of the festival! Everybody come shake off that cold and get your funky dance moves on!!! Go to passim.org/bcmfest for tickets.
New Review:
"…this is purely infectious stuff… It's fresh, bold and exciting, and defies you to listen without moving and grooving to the beat; you might need to advise nearby friends, co-workers or fellow commuters in advance."
–Sean Smith, Boston Irish Reporter
Thanks to Sean Smith, writing for the Boston Irish Reporter, for the kind words! Read the full review at:
http://www.bostonirish.com/sites/default/files/issue/BIR%209_14_web.pdf
Wake Up the Earth Festival May 3rd!
Come check out our set from 3:30-4:45 at the Moon Stage! It's gonna be a party!
Visit  www.spontaneouscelebrations.org for more information.
"…unparalleled connection between the musical traditions of Europe (Scotland), Africa (Ghana) and America (New Orleans)."
March 25th
Our upcoming album has been reviewed by Solar Jazz World of Colombia. Read the full review, (in Spanish) at http://www.solarjazzworld.com/soulsha-afro-celtic-funk/
Video of BCMFest now online!
Feb. 4th 2014
Check it out! The song is "Rhythm's in the Melody."
Song and arrangement by Elias Alexander and the band featuring tunes
"Alice Piel Walkway" by Murray Huggins,
and "Beare Island Reel" by Richard Dwyer
Thanks to Ricky Mier for wielding the camera. As well as to Boston Celtic Music Festival, and Passim.
A' Ghrian Release
Feb. 2nd 2014
We're very proud to present the second track of our latest recording session. A Gaelic prayer from the 1800s, island of Barra, meets a New Orleans second line, meets Road to Errogie by Adam Sutherland, meets a traditional Ewe rhythm. Click on the right to listen. Enjoy!
First track of our latest recording session released!
Jan. 30th 2014
"Carry it On" has dropped. You can go to soulshamusic.bandcamp.com to download it free. Click the player to the right or the music tab to listen!
This track is different from the previous stuff. For one thing, it's a jig! (That means its in 6/8). It's heavily influenced by the music of Fela Kuti. You'll hear Nani Agbeli's beautiful percussion in this one too! The song was written through a collaboration by Neil Pearlman and Elias Alexander, inspired by the tune "Jig for John" by Liz Knowles, which is featured in the track. Check it out!
New Artwork for Our Upcoming Debut EP!
Jan. 28th 2014
I am so excited to present to you the new artwork that will be featured on our upcoming debut EP.
There's a good story behind it. I recently went home to Oregon, and while I was there I walked up into the hills south of Ashland, on the White Rabbit trail. Along the walk I was imagining how I wanted the cover of our  CD to look. Suddenly I came upon the perfect rock, a beautiful flat giant, and it hit me. I picked up a piece of burnt wood that was lying nearby from wildfire prevention efforts, and I began to draw on the rock. The next morning I arose at 4am and hiked back up the hill in the pitch black. This time I brought with me a backpack filled with candles, my camera, a tray to make sure the candles wouldn't fall over, and a tripod, which I thought could also prove useful if I ran into any hostile cougars. I carefully lit the candles so they lighted the rock, set of the tripod, and took photos. In the flickering candlelight the figures I had drawn seemed to dance. Check it out! Thank you Southern Oregon for another beautiful experience of creativity and connection!

BCMFest and Recording!
 Jan. 18th 2014
What a fantastic week this has been! Boston Celtic Music Festival was an absolute blast. Neil Pearlman and Elias Alexander each performed in seven slots with different groups, and still had time to play a rip-roaring set with Soulsha, which turned the First Parish Church into a dance party!!! Thank you so much to everyone for coming out and GETTING DOWN!!! This was an absolutely perfect first show for us.
 There will be a video up very soon! 
If that weren't enough to make a great week, we went into Wellspring Sound Studio on Sunday to record two more tracks. These will be released with the ones you have already heard as our debut EP! Woohooo!
The recording process couldn't have been smoother, thanks to engineer Matt Hayes, and the professionalism and awesome musicianship of all the band members. We're so excited to get these tracks out to you, so stay tuned!
~Elias Alexander