Soulsha is a party, a revolution, and an adventure through different traditions. It brings together some of Boston's top musicians in Scottish, West African, and Funk music to create a sound you won't find anywhere else on the planet.
"Multi-talented and visionary, Soulsha is more than a fresh breeze blowing; it's a tsunami of hope and high energy intercultural awareness washing onto our shores just when we need it. DANCE and ACT now!"
–Alasdair Fraser, Scottish Fiddler
Soulful call and response singing, masterful improvisation, traditional Senegalese and Scottish dancing and incredible energy make every Soulsha show an unforgettable live experience. Intricate rhythms, soaring bagpipe melodies, and New Orleans-infused horn lines come together seamlessly, and the joy of music rises above all differences, reminding us that we're all in this together.
"Soulsha had the crowd up on its feet and dancing at Boston Celtic Music Festival…. Their high-energy fusion of sounds brought an exciting youthful energy to the festival, closing out the day-time part of our festival with a party."
Jon Dorn, Festival Organizer, Boston Celtic Music Festival
The band formed through a series of serendipitous meetings in the thriving and intersecting multi-cultural melting pot of Boston. Many of the members are virtuosic and highly esteemed tradition-bearers in their styles. In Soulsha, they saw a chance to bridge divides. The music they've created is a conversation between cultures that breaks down all the boundaries, moving the audience to abandon their assumptions as they lose themselves on the dance floor.
"…sure to turn anyone into a dancer. …vibrant and never repetitive. …Truly unlike any other jazz or Celtic band out there…."
~Kathryn Leeber (The Noise Boston)
Soulsha will delight lovers of everything from jam bands to bluegrass. While it shares obvious roots with Afro-Celt Sound System's electronic fusion, the funk-inspired sound of Soulsha puts tradition and interchange center stage, bringing the party energy of Rebirth Brass Band, and the cultural gravitas of masters like Malian Toumani Diabaté.
The sound is fun but deep, fresh but familiar, immigrant and yet deeply American.
For several years, Soulsha has been developing their sound while bringing audiences to their feet at a string of northeastern US festivals including Outside the Box Boston, Tartan Day New York City, South Hadley Falls Fest, Wake Up the Earth, Glasgowlands Highland Games and Boston Celtic Music Festival. Now they are ready to take the party further afield. Look out 2018, here comes Afro-Celtic Funk Nation!
"…this is purely infectious stuff… It's fresh, bold and exciting, and defies you to listen without moving and grooving to the beat…."
–Sean Smith, Boston Irish Reporter
"Soulsha is truly unique. And one of the most exciting bands I've ever seen. Can't have them here often enough!"
–Ellen Sturgis, Executive Director, Amazing Things Arts Center, Framingham MA
Members

Amadou Lamine Touré comes from a long line of griots, a caste of musicians and oral historians among the Wolof people of Senegal. Born into a family of griot percussionists, masters of the sabar drum, Lamine has been drumming since the age of four. Growing up in Kaolack, he received his early training as part of his family's drum troupe, performing regularly at weddings, baptisms, and neighborhood dance parties.
In 1986, Lamine moved to Dakar, where there would be more opportunities to exploit his talents in the burgeoning popular music style known as mbalax.
1991 marked the beginning of Lamine Touré's career as a percussionist in the modern music scene, when he formed his first group, Xiis. After playing with Keur Gi, Diaspora, the Ballet Ousmane Cissé and the Orchestre Nationale, Lamine Touré joined mbalax star Mapenda Seck's band in 1995, with whom he made his commercial recording debut, Jamilou.
A fast-growing success, Lamine Touré left Mapenda Seck in 1997 to join Alioune Mbaye Nder et le Setsima Group. Since then he has enjoyed a fruitful career as Nder's percussionist, touring extensively within Senegal and throughout Europe and North America, with performances at Bercy (Paris), the Festival International de Jazz (Montréal) and Central Park Summerstage (New York). Always a highlight of Setsima Group, Touré showcases his musical talent and versatility on a wide range of percussion instruments, from sabar and djembé to tama (talking drum), as well as in taasu (rhythmic poetry, similar to rap).
Since Fall 2002, Lamine Touré has been serving as Artist-in-Residence at the Massachusetts Institute of Technology, where he directs the Senegalese drumming ensemble, Rambax MIT. He continues to teach sabar drumming and dance classes in the Boston area, conducting workshops and lecture-demonstrations at local schools and universities.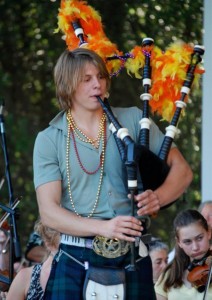 Elias Alexander is a singer, multi-instrumentalist, and actor, and is one of a handful of musicians from the US who are on the forefront of creativity within contemporary Celtic music. He graduated from Middlebury College in 2013 with a BA in Music. Since then he has composed for, led, and toured with several groups including Soulsha and The Bywater Band, an innovative Celtic ensemble featuring his own compositions. He also tours with other bands, including MAC, and legendary Celtic-Rock band Seven Nations. He has performed with greats of the Celtic world such as Alasdair Fraser of Scotland, Carlos Nuñez of Spain, and Gillebride MacMillan of Scotland.
Elias has appeared at major music festivals, including Celtic Connections (Glasgow, Scotland), Outside the Box Boston, Fresh Grass, Tartan Day NYC, Austin Celtic Festival, KVMR Celtic Festival, and many, many more.
In addition to his Celtic and fusion music projects, Elias is an accomplished songwriter in other styles. He is the composer and music director of Taking Our Life, a new play which premiered in November 2017 in Ashland, Oregon. He also acted and sang in the show.
As an educator he is in demand to teach bagpipes, fiddle, and Irish whistle at music camps around the US. He is a regular staff member at Alasdair Fraser's Sierra Fiddle Camp, and has been a guest instructor at other camps including Boston Harbor Scottish Fiddle School, and FiddleQuest Camps.
Orlando Retana – Drums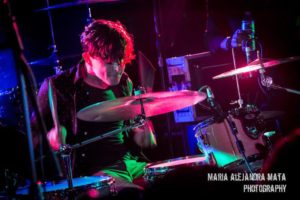 Orlando Retana Porras was born in San Jose, Costa Rica in 1993. He started as a musician at the young age of four. His first steps in music was in the church, starting of getting the excitement for playing percussion and drum set at the church and with local bands. At the age of seven he started taking music lessons. After three years of lessons he started playing with different gospel and latin bands around different cities in Costa Rica like San Jose, Alajuela, Limon, Heredia and Cartago.
In High School, his family immigrated to Calgary Canada, where he discovered different styles of music like Jazz, Funk, Fusion, Classical, and others. For three years he played with a big band in his high school, as well as other bands, and during that time he traveled in different tours around Canada and the US. He then made a big step of moving to Boston, MA to study music at Berklee College of Music. In the past 5 years he is been working with a lot of great musicians like Jetro da Silva, Oscar Stagnaro, Leo Blanco, Susana Baca, Fernando Brandao, Dennis Montgomery, Benny Hinn, Javier Limon, Alejandro Sanz, George Garzone and others. He also composes arranges, and records his own music.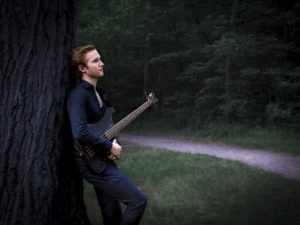 British bassist, Charles Berthoud (pronounced BEAR-too), is changing the way we think about the bass guitar. Charles is a pioneer of the technique of two handed tapping. Before graduating Berklee College of Music with highest honors, Charles co-authored an instructional book, Two-Handed Tapping, with Jim Stinnett. Now, his talents are in high demand as a touring and studio musician.
Half British, half Finnish, and living in the United States, Charles Berthoud is an international artist in the truest form. He has conducted workshops and clinics across the northeast, including at Berklee and the New Hampshire Bass Fest.
Charles has performed at prestigious venues in all four corners of the United States, including The Capitol Center for the Arts, The Palace Theater, and the Agganis Arena in Boston, MA. After touring and recording as a sideman on a dozen records and tours, Charles now has two solo albums under his belt. While New Age of Solo Bass introduced his technical skills to the world, his follow up, Don't Look Back, is a compositional tour de force.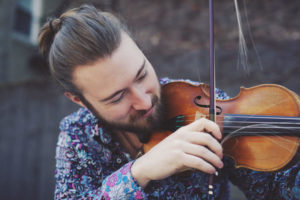 Galen Fraser is an accomplished fiddle player, composer, engineer and producer from the foothills of Northern California. Best known for his modern take on celtic traditional music, he tours with the praised Galen Fraser Quartet, Soulsha, and the Europe-baised Atlantic Folk Trio.
Fraser has played with renown musicians such as Alasdair Fraser, Natalie & Brittany Haas, Martin Melendez (of the Aupa Quartet), Hanneke Cassel, and Colin Cotter. He has performed at The Mandavi Centre, The Palace of Fine Arts, Symphony Hall in Boston, Ma, with members of the Boston Symphony Orchestra, and many other esteemed venues in the United States and Europe.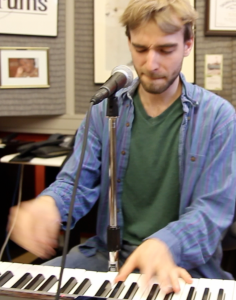 Pianist and mandolinist Neil Pearlman is rapidly distinguishing himself as a uniquely innovative artist in the contemporary traditional music scene. Called "a tremendous pianist" on BBC Radio Scotland and "a force to be reckoned with" by WGBH's Brian O'Donovan, Neil is recognized in many Celtic music circles for his unique approach to the piano. Rooted in traditional Cape Breton piano styles, Neil brings in ideas from many other genres and the result is an exciting new sound that remains true to its traditional roots. It was this fresh approach that led legendary Cape Breton fiddler Jerry Holland to say "watching Neil's hands on the piano was like watching two spiders on crack!"
An accomplished Cape Breton step dancer as well, Neil grew up in the family band Highland Soles, led by father and mother Ed Pearlman and Laura Scott, both influential Scottish music and dance figures in the US. Neil has performed with Natalie MacMaster, Alasdair Fraser, Bruce MacGregor, Natalie Haas, Mike Block, Seamus Connolly, Kimberley Fraser, Maeve Gilchrist, Hanneke Cassel and Mike Vass, opened for Archie Fisher, split a bill with Jerry Holland and worked closely with many others. His career so far has taken him to Scotland, Spain, Mexico, Canada and all across the US.
Neil currently performs with a wide range of musical projects from traditional Scottish fiddle music to contemporary jazz. These include Alba's Edge (Scottish/Jazz/Latin quartet), Soulsha (Scottish/West African/Funk 8 piece band), The Katie McNally Trio ("The new face of Scottish Fiddle in America" -Living Tradition Magazine), Party of Three (Contradance band) and Neil's duo with father Ed Pearlman.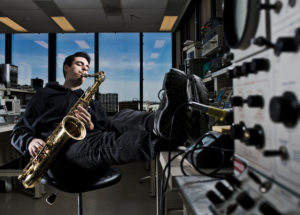 A native of Portland, Maine, Dylan has played the tenor, soprano, baritone and alto saxophones throughout the east coast and the greater Boston area since the late 1990s. Dylan studied privately in the classical and jazz styles before coming to Boston, where he is involved with an assortment of funk, jazz and third stream groups, including collaborations with Chris Cheek, Bill McHenry, Guillermo Klein, and several appearances with Boston's dynamic Aardvark Jazz Orchestra. Dylan is also an alumnus of MIT and has an alternate life working with artificial intelligence. He also enjoys exploring the interaction between music and technology.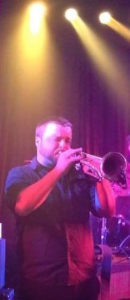 Jake Galloway, also known as TrumpetJakeG to his colleagues and students alike, is known to be an overly-passionate trumpet player whose abundance of love for his career has burst him onto the Boston music scene full force over the last two years. Equipped with a dual-bachelor's degree from the Music Education and Performance programs at the University of Massachusetts at Lowell, Jake has found himself traveling more and more every day to spread his love and passion for making music to greater numbers of people. He doesn't only do this through performing for crowds such as this one, though. He also owns and operates a small in-home music education service 'on the side' known as, Traveling Trumpet Lessons by TrumpetJakeG.
Conor Hearn – guitar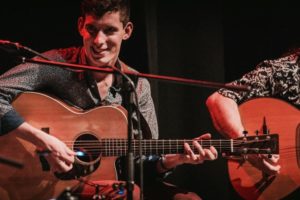 Conor Hearn is a stylistically diverse guitar player and instructor who specializes in accompaniment of traditional Irish and Scottish fiddle playing. Hailing from the Irish music communities of Washington D.C. and Maryland, Conor grew up playing fiddle and guitar in the traditional Irish music sessions. While studying to attain his B.A in English Literature with a minor in Music from Tufts University, Conor started working as a professional guitar player by lending his innovative rhythmic skills to the panoply of groups and projects that are taking shape in the Boston area folk music scene. He has since performed on programs like Brian O'Donovan's Celtic Sojourn and taught guitar at music festivals such as Alasdair Fraser's Sierra Fiddle Camp, while establishing himself as a cutting-edge Scottish and Irish plaver playing with groups like Soulsha, The Galen Fraser Quartet, TriHearn, and Pumpkin Bread. Conor currently makes his home in Medford, MA where he performs and teaches regularly.