Soulsha is a Boston-based band combining Scottish and West-African traditional music with funk, highlife, and afrobeat.
Our name  is a reference to the Scots-Gaelic word soillse, meaning a ray of light, elucidation, or "the light that happens."
"Multi-talented and visionary, Soulsha is more than a fresh breeze blowing; it's a tsunami of hope and high energy intercultural awareness washing onto our shores just when we need it. DANCE and ACT now!"

–Alasdair Fraser, Scottish Fiddler
"…this is purely infectious stuff… It's fresh, bold and exciting, and defies you to listen without moving and grooving to the beat; you might need to advise nearby friends, co-workers or fellow commuters in advance."
–Sean Smith, Boston Irish Reporter
"Soulsha is truly unique. And one of the most exciting bands I've ever seen. Can't have them here often enough!"
–Ellen Sturgis, Executive Director, Amazing Things Arts Center, Framingham MA
This new 8-piece collective brings together some of the Boston area's top musicians from backgrounds in Scottish, West African, and Funk music. Individually these musicians tour nationally and internationally. Brought together they are a force of nature.
This is a sound you have never heard before. Hip shatteringly tight grooves provide an irresistible pedestal for the explosive joyfulness of Scottish dance tunes on fiddle and pipes, soulful vocals, pyrotechnical improvisation, and intricate traditional rhythms from the Wolof culture of Senegal.
This band is on a mission to reveal the rhythmic, melodic, and spiritual connections between far flung cultures. It's decolonization in action. They have brought audiences to their feet at Massachusetts festivals ranging from Glasgowlands Highland Games and Boston Celtic Music Festival, to Outside the Box and South Hadley FallsFest.
No one is left unmoved, as the celebratory exuberance of these diverse cultures unites on stage, reminding us never to forget that we're all in this together.
Members
Elias Alexander – Vocals, Border Pipes, Low Whistle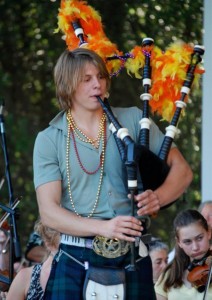 Elias Alexander is a good-time instigator and musical personality. He throws himself wildly into a number of artistic forms, including music, acting, and poetry. Originally from beautiful Ashland, Oregon, he graduated from Middlebury College in 2013 with an honors degree in music. He also spent significant time there doing environmental studies and theatre. While in Vermont he was winner of the Young Adult category at the Vermont Young Tradition Competition 2013 singing and playing border pipes. He then moved down to Boston to be part of the vibrant celtic and acoustic music scene.
He has spent time rapping with brass bands, playing blues harmonica, and riding a unicycle while playing bagpipes in New Orleans, singing old-time songs in Georgia, and frontmaning and playing tenor sax in a funk band wearing a red sequined Elvis suit in Vermont.
In addition to Soulsha, he  plays border pipes in a west-coast duo called Yodel and Swag with Daniel Carr, harmonica, guitar, and fiddle in a duo with Max Godfrey, of Georgia, percussion in Boston-based fusion band Cat and the Moon, and border pipes in Fresh Haggis, a new project with Eamon Sefton and Kathleen Parks.
Elias loves teaching, and he is invited yearly to Alasdair Fraser's Sierra Fiddle camp as a party-stirrir-upper, ceilidh emcee, and assistant teacher. He also teaches at Creekside Strings Fiddle camp in Ashland, Oregon and gives private lessons in Scottish bagpipes and beginning fiddle, as well as offering performance coaching.
Lamine Touré – Percussion

Amadou Lamine Touré comes from a long line of griots, a caste of musicians and oral historians among the Wolof people of Senegal. Born into a family of griot percussionists, masters of the sabar drum, Lamine has been drumming since the age of four. Growing up in Kaolack, he received his early training as part of his family's drum troupe, performing regularly at weddings, baptisms, and neighborhood dance parties.
In 1986, Lamine moved to Dakar, where there would be more opportunities to exploit his talents in the burgeoning popular music style known as mbalax.
1991 marked the beginning of Lamine Touré's career as a percussionist in the modern music scene, when he formed his first group, Xiis. After playing with Keur Gi, Diaspora, the Ballet Ousmane Cissé and the Orchestre Nationale, Lamine Touré joined mbalax star Mapenda Seck's band in 1995, with whom he made his commercial recording debut, Jamilou.
A fast-growing success, Lamine Touré left Mapenda Seck in 1997 to join Alioune Mbaye Nder et le Setsima Group. Since then he has enjoyed a fruitful career as Nder's percussionist, touring extensively within Senegal and throughout Europe and North America, with performances at Bercy (Paris), the Festival International de Jazz (Montréal) and Central Park Summerstage (New York). Always a highlight of Setsima Group, Touré showcases his musical talent and versatility on a wide range of percussion instruments, from sabar and djembé to tama (talking drum), as well as in taasu (rhythmic poetry, similar to rap).
Lamine Touré is also the founder and leader of Group Saloum, Boston's newest Afro-pop band. Lamine Touré and Group Saloum fuse Senegalese mbalax with elements of jazz, funk, reggae and Afrobeat. Group Saloum performs original mbalax music, drawing upon the collective creativity of Touré and some of Boston's most talented musicians. Their performance debut at the Central Square World's Fair in July 2004 was a smashing success, drawing record crowds to the African Stage.
Since Fall 2002, Lamine Touré has been serving as Artist-in-Residence at the Massachusetts Institute of Technology, where he directs the Senegalese drumming ensemble, Rambax MIT. He continues to teach sabar drumming and dance classes in the Boston area, conducting workshops and lecture-demonstrations at local schools and universities.
Galen Fraser – Fiddle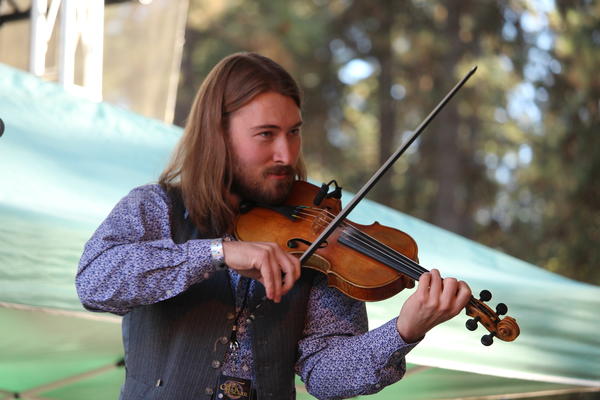 Galen Fraser is an accomplished fiddler and composer from Northern California with a love for improvisation and spontaneity. His love for singing and writing lead him to pursue music as a career, earning his Bachelors Degree in Songwriting from Berklee College of Music. He has played with renown musicians such as Alasdair Fraser, Natalie & Brittany Haas, Martin Melendez (of the Aupa Quartet), Hanneke Cassel, and Colin Cotter. He has performed at Symphony Hall in Boston, Ma, with members of the Boston Symphony Orchestra, The Mandavi Centre, The Palace of Fine Arts, and many other esteemed venues in the United States and Europe. In August 2016, Galen released his debut solo album, "Mischief Managed" featuring all original fiddle music and songs with guests such as Natalie Haas, Alasdair Fraser, Jenna Moynihan and Conor Hearn. Now based in Boston, MA, he plays with the high energy Galen Fraser Quartet and the groovy afro-celtic funk band Soulsha (http://www.soulshamusic.com/).
Currently Galen plays sessions at The Burren, Emmet's Pub and Bella Luna & The Milky Way (in the Boston, Ma area) and teaches yearly at Alasdair Fraser's Sierra Fiddle Camp and Valley of the Moon, Scottish Fiddling School.

Aaron Bellamy – Bass
http://arevolutionnow.com/artist-pages/aaron-bellamy.html
Aaron Bellamy grew up in Boston, MA and began playing music at an early age, influenced both by his father who was a full time musician, and a large talented musical family. As a bassist, Bellamy has toured the world with various acts including nationally acclaimed/BMG recording artists Sam Kininger Band, soul singer Martin Luther (The Roots, Rebel Soul Records), PlayonBrother Band with Alan Evans (of Soulive), the Revolutionary Snake Ensemble, and numerous other local and national acts. Also a guitarist, songwriter, arranger and engineer, Bellamy fronts his own project The Brothers Bellamy Band with his brother Luke Bellamy on drums. Aaron is the principal engineer at his recording studio A1 Productions in Charlestown MA and can also be found as bandleader at the notable Wally's Jazz Club in Boston, MA every tuesday night.
Peter MacLean – Drums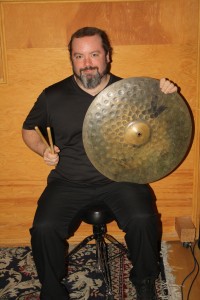 Pete's ancestors left the isle of Mull in the Scottish Hebrides over 200 years ago specifically so that someday he could be in this band. His great times eight aunt who had the second sight dreamt of it, prompting his ancestors to pack their bags and travel to America. Though times were hard and their longing for home cut as deeply as the icy pangs of Winter in New England, they took consolation in knowing that their descendant, Pete, would one day be one of the funkiest groovemeisters whose heels would ever click the cobbled lanes of Bean Town. Today Pete lives up to the memory of those long ago days by maintaining the unwavering spirit, the rhythmical dynamism, and the palatial facial hair of his ancestors.  You can see him every tuesday night at Wally's with Aaron.
Neil Pearlman – Keys, Mandolin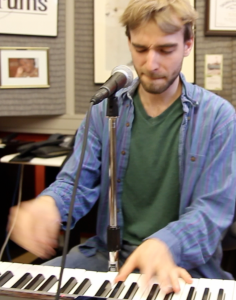 Pianist and mandolinist Neil Pearlman is rapidly distinguishing himself as a uniquely innovative artist in the contemporary traditional music scene. Called "a tremendous pianist" on BBC Radio Scotland and "a force to be reckoned with" by WGBH's Brian O'Donovan, Neil is recognized in many Celtic music circles for his unique approach to the piano. Rooted in traditional Cape Breton piano styles, Neil brings in ideas from many other genres and the result is an exciting new sound that remains true to its traditional roots. It was this fresh approach that led legendary Cape Breton fiddler Jerry Holland to say "watching Neil's hands on the piano was like watching two spiders on crack!"
An accomplished Cape Breton step dancer as well, Neil grew up in the family band Highland Soles, led by father and mother Ed Pearlman and Laura Scott, both influential figures in Scottish music and dance. Neil has performed with many major music figures including Natalie MacMaster, Alasdair Fraser, Natalie Haas, Seamus Connolly, Kimberley Fraser, Maeve Gilchrist, Hanneke Cassel, Frank Ferrel, Laura Risk and Mike Vass. He has also opened for Archie Fisher, split a bill with Jerry Holland and worked closely with many others.
Some highlights of Neil's career so far have been performances at Carnegie Hall and the Iron Horse, and teaching at Alasdair Fraser's Sierra Fiddle Camp. Neil currently performs with a number of projects ranging from traditional Scottish fiddle music to contemporary jazz.
Dylan Sherry – Tenor Sax
http://people.csail.mit.edu/dsherry/www/index.html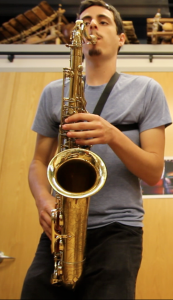 A native of Portland, Maine, Dylan has played the tenor, soprano, baritone and alto saxophones throughout the east coast and the greater Boston area since the late 1990s. Dylan studied privately in the classical and jazz styles before coming to Boston, where he is involved with an assortment of funk, jazz and third stream groups, including collaborations with Chris Cheek, Bill McHenry, Guillermo Klein, and several appearances with Boston's dynamic Aardvark Jazz Orchestra. Dylan is also an alumnus of MIT and has an alternate life working with artificial intelligence. He also enjoys exploring the interaction between music and technology.
Jake Galloway – Trumpet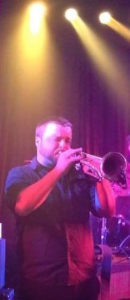 Jake Galloway, also known as TrumpetJakeG to his colleagues and students alike, is known to be an overly-passionate trumpet player whose abundance of love for his career has burst him onto the Boston music scene full force over the last two years. Equipped with a dual-bachelor's degree from the Music Education and Performance programs at the University of Massachusetts at Lowell, Jake has found himself traveling more and more every day to spread his love and passion for making music to greater numbers of people. He doesn't only do this through performing for crowds such as this one, though. He also owns and operates a small in-home music education service 'on the side' known as, Traveling Trumpet Lessons by TrumpetJakeG.